You are here: Home >> Airgun Manufacturers >> Kral >> Puncher
Please find below the exploded parts diagram, parts list and available spare parts for the following Kral rifles:
Kral Puncher
Kral Puncher Breaker
Kral Puncher Pro
Kral Puncher Armour
Kral Puncher Maxi
Kral Puncher Standard
Kral Puncher Mega
Kral Puncher Evo
Kral Puncher NP-01
Kral Puncher NP-03
Kral Puncher NP-05
Kral Puncher Monarch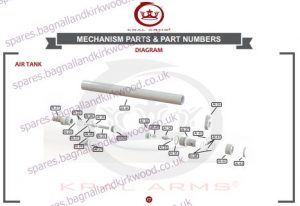 For any spare parts not listed please feel free to contact us.
Available Spare Parts:
Please pay attention to the details on each part for specific versions that the spare parts fit.

Here at Bagnall and Kirkwood we stock many spare parts for your gun. From springs to seal kits, o-rings to breech seals we stock it all. Where possible we will also provide parts drawings, strip-guides and exploded diagrams for your rifle, airgun or shotgun.